With support from The Jerome Foundation and The ​NYC Women's Fund for Media, Music and Theatre by the City of New York Mayor's Office of Media and Entertainment in association with The New York Foundation for the Arts. 
Japanese immigrant composer, Migiwa Miyajima, highlights stories of Japan's 2011 earthquake survivors and her own journey through her music and a quote book.

"Have you ever thought about what "resilience" looks like in your life?" - Migiwa Miyajima
The Unbreakable Hope and Resilience Project has two expressions

1. "Your Future Story" (Hardcover or digital Book + Music) on sale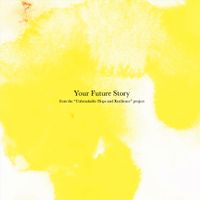 The first expression, "Your Future Story" is a book with accompanying music. It includes
●13 beautiful quotes about life from the interviewees, including my own words
●Three original compositions 
"The Intro - Your Future Story" and "10 Years and Counting" are newly recorded pieces by my 17-piece Miggy Augmented Orchestra in remote-recording style. 
The third accompanying composition is a remixed version of Captain Miggy's Age Of Discovery, from my 2018 album "Colorful."  This 2021 version includes all 17 members' solos.
The book will be a limited edition and only 500 copies will be available. There will also be a fully digital representation of the book called  "Your Future Story - living video book".
2. "10 Years and Counting" (Musical album - CD or digital download)
The second expression, the "10 Years and Counting" recording which will be released in December 2021 is a full-length album of 10 movements inspired by the stories from the people I interviewed. The Miggy Augmented Orchestra will record this music in early winter 2021 and as a participant, you will have access to the creative process as the recording unfolds. When you participate as an Ambassador or Silver, Gold, Platinum participant, your name will be included in the artwork of "10 Years and Counting" recording, and you will receive both the Limited Edition "Your Future Story" book and the "10 Years and Counting" recording on CD.