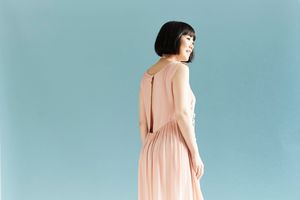 "

From her music to her personality to the title of her album, the word "colorful' says it all. " - Dana Rodriguez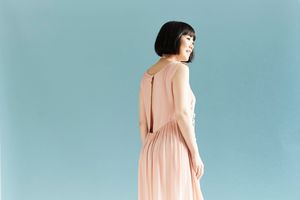 Colorful
The Miggy Augmented Orchestra
0:00/0:59

0:00/0:59

0:00/6:27

0:00/1:00

0:00/1:00

0:00/1:00

0:00/1:00

0:00/0:59
Purchase your copy!  
| | |
| --- | --- |
| | Digital album |
| | Digital album and Physical CD |
| | Physical CD |
| | Digital streaming service |
- Composer or player? Stop by our "Score Store"
"Hidden treasure of New York" - Slide Hampton
The key to living a rich and meaningful life is continuous learning and fearless pursuit of one's passion.  She stepped down as editor in chief of a magazine to become a musician at age of 30. 
In 2011 and 2014, Migiwa Miyajima was associate producer for two Grammy Award nominated albums of the Vanguard Jazz Orchestra. After the 2011 Great East Japan Earthquake, she received a scholarship from the Japanese government to come to New York in 2012. There, she studied with Jim McNeely and Mike Holober. She went on to lead her orchestra at Birdland in 2017, as the first female Japanese big band leader since Toshiko Akiyoshi left in 2003.  She became conductor and associate producer of the Slide Hampton Big Band in 2018. The Colorful project will be her debut album in the USA.
The Band
Composer / Bandleader: Migiwa Miyajima
Trumpets and Flugelhorns: Dan Urness, David Smith, Matt Holman, Nadje Noordhuis
Trombones: John Mosca, Jason Jackson, Jennifer Wharton (bass trombone), Douglas Purviance (bass trombone)
Reeds: Ben Kono (alto saxophone, soprano saxophone, flute, clarinet), Alejandro Aviles (alto saxophone, soprano saxophone, flute, clarinet), Sam Dillon (tenor saxophone, flute, clarinet), Quinsin Nachoff (tenor saxophone, clarinet), Carl Maraghi (baritone saxophone, bass clarinet)
Rhythm Section: Jeb Patton (piano, except 2 and 9), Migiwa Miyajima (piano, on 2 and 9), Jared Schonig (drums), Pete McCann (guitar), Yosuke Terao (bass)
Guest player: Tomoko Nagashima from Orange Pekoe (voice)
Mike Holober, Session Producer
Jay Messina; recording Engineer/ Mixing Engineer, Owen Mulholland; Assistant Recording Engineer / Assistant Mixing Engineer
Recorded at Sear Sound, NYC, USA on August 3 and 4, 2017
Mixed at on Sear Sound, NYC, USA on August 17,18, and 24, 2017
Greg Calbi; Mastering Engineer
Mastered at Sterling Sound, NYC, USA on August 25, 2017
I wrote "Ready" to challenge listeners from the outset to prepare themselves for the album to come, introducing it like a table of contents. I took a phrase from each of tracks 2-8 and wove them throughout. Solos: Carl Maraghi, baritone saxophone; Jeb Patton, piano
---
"Colorful" is my ideal depiction of the world. The world is so cool because everyone is different coming together to create harmony. I worked with Quinsin to deliver this message in a more profound way. Solos: Quinsin Nachoff, tenor saxophone; Everyone in the band
---
"Captain Miggy's Age of Discovery" is a comic depiction of my move to New York and trying to make it in America. It likens me to a captain in the Age of Sail. Solos: Sam Dillon, tenor saxophone; Ben Kono, alto saxophone
---
"Find the White Line" was inspired by the cries of small birds around my home in suburban New York. I transcribed the calls of actual birds into the song. Solos: Nadje Noordhuis, Flugelhorn; Jeb Patton, piano
---
"The Hi-Hat Man" features the hi-hat, the quietest part of the drum set, from start to finish. This restriction drew out the genius talent in Jared's drumming to the fullest. Solos: John Mosca, trombone; Yosuke Terao, bass; Jared Schonig, hi-hat
---
"Drops into the Sky" is based on a friend who struggled with illness and the quest for survival. Solos: Pete McCann, guitar; Jason Jackson, trombone
---
In 2016, my mother developed cancer. I was unable to compose for some time. "Awakening" tells that story. Matt's playing conveyed my internal struggle. Solo: Matt Holman, trumpet
---
I wrote "Hope for Hope" after the 2011 Great East Japan Earthquake. Everyone was in dark spirits, so I took it upon myself to stand tall and smile, and I physically saw how this triggered a change in those around me. Solos: David Smith, trumpet; Alejandro Aviles, soprano saxophone
---
Dealing with family illness, I learned that life is precious. I wondered what my own last words should be. The result was "An Ending – I Love You." My dear friend Tomoko Nagashima was guest singer. Solos: Migiwa Miyajima, piano; John Mosca, trombone; Douglas Purviance, bass trombone; Tomoko Nagashima, voice